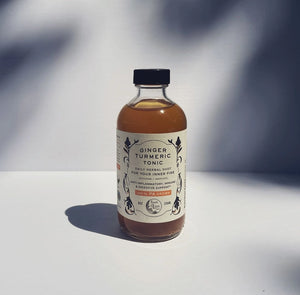 Ginger Turmeric Tonic -Daily Herbal Shot For Your Inner Fire
Regular price $19.50 Sale
In order to capture their delicate and juicy aromas, we harvest and immediately extract our fresh roots in the fall. The result is unlike ginger or turmeric you've ever had - a balanced, spicy and fruity tonic for a whole body anti inflammatory boost.
It's a treat to find these tropical roots locally grown in our climate!
Tasting notes: pungent, spicy + warming 100% pennsylvania grown, fresh extracted botanicals from our farm.
Herbal blend: ginger (zingiber officinale), turmeric (curcuma longa), black pepper (piper nigrum) other ingredients: organic raw apple cider vinegar, local raw honey
Daily herbal shot for whole body support - a potent bouquet in every ounce!
Alcohol-free, whole plant extract, raw & probiotic.
Take 1-2 teaspoons straight up, add to water/tea/juice, or mix for a flavorful cocktail!