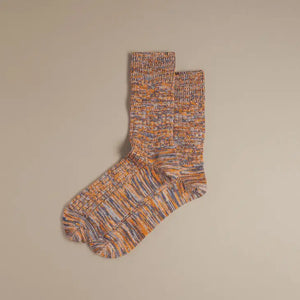 Faltering Stripe Socks | Blue & Orange
Regular price $35.00 Sale
Indulge in the comfort and warmth of our soft and ribbed wool socks, knitted in an irregular stripe pattern using rustic marl colours for a unique look. Ideal for wearing with your favourite walking boots, festival wellies or lounging at home. Our socks are made from merino wool, a natural insulator that's both breathable and cosy. With added nylon for durability, you can enjoy long-lasting quality and easy care. Shop now and treat your feet to the ultimate comfort while also supporting our British textile industries.
Size: UK 8-11
Materials: 80% wool for softness and warmth, and 20% nylon to make these socks more hard wearing.
Provenance: Designed in Margate, knitted in small batches at our West Yorkshire factory.